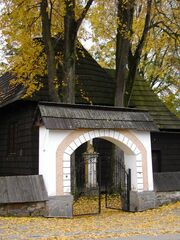 The Church of Trinity is the church in Trinity. It is a catholic church that is owned by the Harvian Church Network.
The church was first built in 1824 by a group of catholic people who wanted a church in Trinity. It is the oldest building in Trinity, and the oldest church in the Islands. It is known to be one of the most popular churches in the Harvian Islands.
It has been a catholic church since it's founding, and due to the expanding catholic population of the Harvian Islands, it is becoming very popular and will not change to another type of church.
Today the church has a large congregation, and is the seat of Presiding Bishop Habakkuk J. Krkov.
Ad blocker interference detected!
Wikia is a free-to-use site that makes money from advertising. We have a modified experience for viewers using ad blockers

Wikia is not accessible if you've made further modifications. Remove the custom ad blocker rule(s) and the page will load as expected.