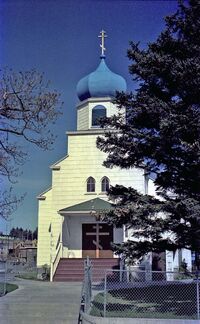 The Church of Stamadri is the oldest and largest church of Stamadri. It is an Eastern-Orthodox church built by Grigori Christi Negresco (1879-1966), the Romanian born son-in-law of Buck Leeburg. After the Revolt of 1907 when Leeburg was killed and his family fled the island Negresco and his wife were the only members of the family who were allowed to stay. They Christened many Samoans and lived a long a prosperous life dedicated to their family and their community. The Church, made of wood, burned down almost completely in 1958 but a wealthy grandson of Negresco funded the restoration which was completed on november the first 1961. It is currently owned by the Harvian Church Network.
Ad blocker interference detected!
Wikia is a free-to-use site that makes money from advertising. We have a modified experience for viewers using ad blockers

Wikia is not accessible if you've made further modifications. Remove the custom ad blocker rule(s) and the page will load as expected.